If you like farmers and you like cakes, and your idea of heaven is being dragged through a field of mud backwards by a farmer on a tractor, while trying to keep your tins of cake level, you will love what's coming next…
To get us started. here are some cakes: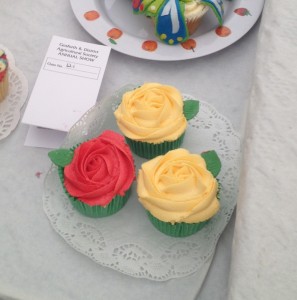 and here is some mud: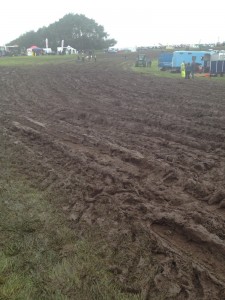 This is the local agricultural show that I've been coming to with my family since I was about 5. In the tradition of most Lake District agricultural shows, the main focus is ostensibly on the magnificent sheep and cattle that are brought down from the farms to be washed, trimmed and then judged, especially the sturdy and charismatic Herdwick sheep, which are native to the scrubby Cumbrian fells. More on Herdwicks in other posts. I'm slightly obsessive about them. There's also a little showjumping, a bit of dressage, a beer tent, stalls and a couple of demonstrations, of either dancing tractors or geese being herded by Border Collies – either is more than acceptable by me.
However, the real competition is to be found in the big white horticulture and handicraft tents. Hoo, yes. Show me two dishes of Cumberland rum butter next to each other, and I'll show you a fight about to break out about whether grated nutmeg on top is correct or not. Gosforth Show has been a feature of my August for as long as I can remember. Every June, when the entry forms arrive, my mother and I say, no, not this year. I've got too much on. I can't make another cherry cake. No one even likes Honey Cake (fruit). And then. the night before the closing deadline, I ALWAYS end up ringing the secretary and reeling off a frantic list of entries. Four biscuits (one variety); Victoria Sponge (to be baked in one tin); Three Meringues (unfilled). And so on.This year I was so determined not to enter Victoria Sponge (a huge stress, as you can never tell if you've over/undercooked it until it's too late) that my mouth blurted out Three Squares of Gingerbread instead.
Then, as a rule, I forget all about it until 3 days before the show, at which point I have to make all this stuff, and then drive a few hundred miles up to the remote-ish village where my parents live. Come 2am the morning of the show, you will usually find me knocking back black coffee and making a fourth lot of meringues, as the previous three have not come up to standard. Between the caffeine and the sugar ingested while 'testing' the meringue, hysteria can set in, along with jealous hallucinations of bolster-bosomed farmers' wives competently knocking out three trays of perfect gingerbread and a half-ton of divine lemon curd while barely pausing to collect Six Brown Eggs from under some warm hens and knit a Child's Jumper (to feature cartoon character).
All the produce has to be 'staged' in the judging tent by 10am. By 'staging' I mean 'arranged on doilies in the right section of the trestle table, with the entry ticket clearly visible'. This was more of a problem when my sister Clare and I were little and used to enter everything from Edible Necklaces to Handwriting (the holidays were long; my mum liked to keep us occupied). 'Staging' our entries took about as long as setting up a Lady Gaga concert. These days it's not so bad, although it does require the bleary-eyed cook to pick the 'four best' shortbread biscuits from a tin of twenty identical ones before she's had time to wake up. However, leaving the house at a leisurely 9.15am I wasn't bargaining for all the rain Cumbria has been enjoying of late. When I got to the field on which this extravaganza is set, it looked like this: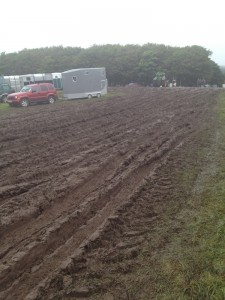 ie, the Somme, but with more horseboxes and a beer tent. I was the only person there without the benefit of 4×4. Only the dog cage in the back stopped me looking like a clueless townie. The lads at the gate nodded politely while I squawked about having to stage my entries by 10am, and then shoved me down the hill, where I narrowly missed a horse box full of Shetland ponies. Then my mother and I staggered through the mud and began to Stage…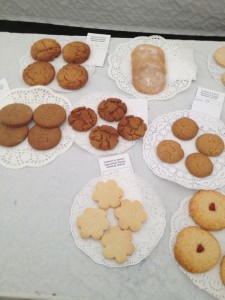 Here are my two lots of biscuits (one variety), and next were my meringues…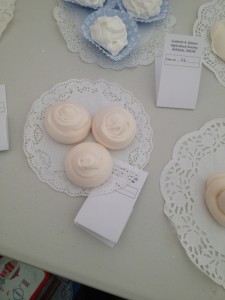 Mum likes to go jazzy with her Cherry Cake presentation. Can you spot which one is hers?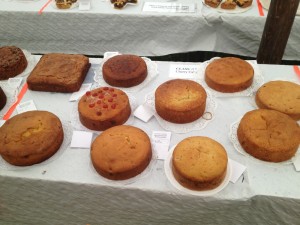 And finally, my new piece de resistance, Three Decorated Cupcakes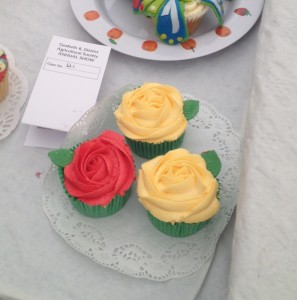 I also branched out into Satire with my entry in Snapshot with Caption (the other photography classes were Snapshot: A Gate, and Snapshot: A Jubilee celebration.)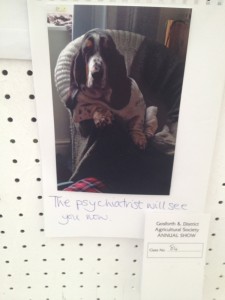 There are many many other classes to be entered, most of which I was too bleary-eyed to photograph, but my favourite is the WI exhibit – in which a whole Women's Institute gathers to create a joint entry featuring baking, preserving, handicraft of some kind with additional marks for artistic merit. I did think that maybe someone in Seascale WI hadn't quite read the rubric as thoroughly as, say, Gosforth WI.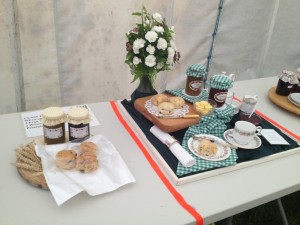 Anyway, by the time we'd got all that set up, plus Mum's honey fudge, honey cake (plain) and a darling little matinee jacket which she'd put into the Article in Any Craft, Exhibitor to be Over 70, something she doesn't have any chance of winning, despite being a brilliant knitter, as she is barely 70 and most of the competitors in that are well into their 100s and still knocking out crocheted teacosies like elderly knitting machines, we waded back out into the early morning drizzle in search of breakfast.
By now, anything not moving was slowly sinking into the mud. That included animals. On the far side of the field, I could see cars being towed onto the showfield by tractors: three huge green Massey-Fergusons circled the perimeter looking for things to rescue. I went back to the car and found the towing eye, and the moment I got it properly tightened up on the rear bumper, I started to feel a lot better about the whole day. I mean, (a) I probably paid extra for the towing eye when I ticked all the extras packages, and now I was going to get some value out of it; (b) I've never been towed, and would now get to do it without the audience of my boyfriend telling me I was steering wrong, and (c) who doesn't love a farmer in gallant rescue mode? Entire novels have turned on less.
We were all set for a nosy around the stands when I discovered that my mother had elected to come in a pair of peep-toe wedges, a la Carole Middleton (I rushed her and her honey cakes out of the house before she could properly consider her footwear – I am a demon about timekeeping, sorry Mum). She bravely tried to claim she was fine and 'it was just like Glastonbury' but she's not a tall woman, and I was scared of losing her to a particularly cavernous trough. So, like a pair of Jane Austen poverty-stricken spinsters, we were forced to share my wellies all day. Her feet are a ladylike 5. Mine are an unladylike 8. I lent them to her so she could go and have a ferret around the stalls but when the poor woman spotted someone she didn't want to talk to, the 'ten league boot' effect meant that she couldn't scurry away fast enough without risking losing her footwear altogether like a muddy Cinderella, so she was trapped. Again: sorry, Mum.
At 11am, my sister Clare phoned to ask what the field was like, and where she should park. By now the rain had retreated to a sort of sullen mist and the mud was solidifying in a positive fashion. Mum started to tell Clare that she should just have a nice cup of tea at home with my dad (who'd wisely opted not to join us) but I'm sorry to say I wrestled the phone off her, and told Clare that she and her LandRover Freelander would LOVE IT here and that she should come and suffer along with us join us. (I might also have shouted quite loudly about the tractor action so my nephew could hear.)
Anyway, show tradition dictates that at midday the judging is decreed over, chicken wire is wrapped around the trestles to prevent sticky fingers poking the exhibits (or the sneaky moving of prize tickets), and the impatient hordes are allowed in to see how they've done. We, naturally, charged in as fast as our one pair of Le Chameaus could carry us.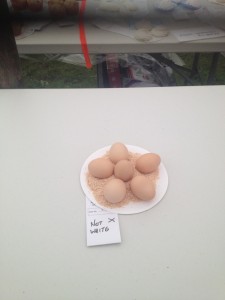 These eggs were apparently not white. Sadly they were the only entry in the Six White Eggs class. (There were lots in the Six Brown Eggs. Apparently Cumbrian hens just lay brown.) They look white to me, but what do I know? Egg apartheid is still rife.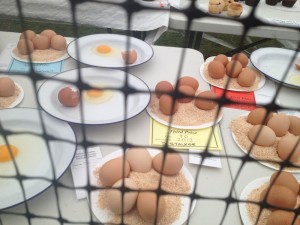 Also, there was pain aplenty for Bootle WI who were steaming ahead with a spectacular WI exhibit… until the moment when the judge opened the Apricot Jam…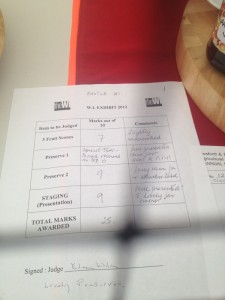 0 points! That's the equivalent of missing the vault altogether and doing a piked somersault into the crowd. Poor Bootle WI lady, and shame on the passive aggressive capitals in the judging.
Mum and I did very well, I'm pleased to report. I won the Snapshot with Caption (although I am semipro – making sarcastic observations about people in photos is pretty much my greatest talent) and also the Meringues. I am proud of that. Whenever I read a biting one-star review of The Little Lady Agency, I think to myself, 'Yes, but I make a damn fine Meringue.' In all seriousness, everyone should find one thing, however small, that they're really, really good at, and use it as a sturdy liferaft for their self-esteem; my meringues have galvanised me through some savage reviews. I also picked up a second prize for my ginger snaps, and a third prize for my Gingerbread squares. My cupcakes (deep breath), my cupcakes got nothing. This is what won: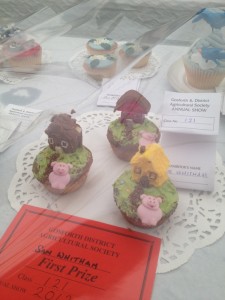 My mother won first AND second prize for her honey confectionery, and second prize for her Honey Cake (plain). Her beautiful matinee jacket went sadly unrewarded but as I pointed out, this was less a judgement on her knitting and more on her youthfulness.
Shortly after this – and shortly after my infant niece and nephew had been sent round the tent to point at our entries and marvel loudly at their excellence, a role traditionally taken by non-competing family members – the sun came out. Hurray! We enjoyed an ice cream and a demonstration of sheep shearing and just some of the many tuna sandwiches I'd made at 8am. My dad appeared, having parked so far away from the muddy trenches that he might as well have walked over from our village, and cheeriness was restored. Nothing brings a northern family closer together than adverse weather conditions, a really well-bred sheep, and ice cream.
Then the highlight of my day – at 4pm, one of the knights on a shining green tractor (with whom I'd been at school approx 25 years ago, hello, Craig!) appeared with a big chain which he attached to the back of my car, and proceeded to tow me out of the morass backwards. Past the lovely children on fancy dress ponies: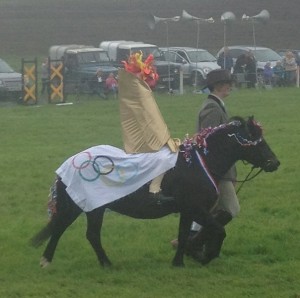 (It's the Olympic Torch, by the way)
Past the winning sheep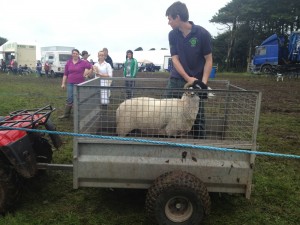 And out through the main gate.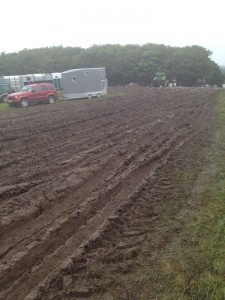 I know I've posted that before, but YOU HAVE TO UNDERSTAND WHAT IT WAS LIKE. IT WAS LIKE DRIVING THROUGH CUSTARD.
And the best bit of all (apart from the sheer sense of relief that I wouldn't be stuck in that field with 80 dairy cows until it dried out)? This is what we had for tea.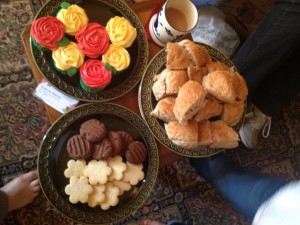 Obviously I will be entering again next year. Next year, I'm going for the cup…