In Hester Browne's "deliciously addictive" (Cosmopolitan) bestseller The Little Lady Agency, Melissa Romney-Jones transformed herself from doormat to diva as Honey, London's premier freelance girlfriend. Now, Melissa is about to take Manhattan, and its clueless bachelors, by storm!
---
'Another bit of brilliant chick-lit'
– Heat
---
'Another bit of brilliant chick-lit'
– Heat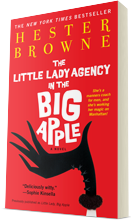 ---
Synopsis
At home, Melissa is a pushover in an Alice band.
But at the Little Lady Agency, she transforms herself into blonde bombshell Honey: a super confident supernanny to hapless men all over London – with a desk diary that's bursting.
Only now her American boyfriend Jonathan has invited her to New York for a holiday – on the condition that Honey and the blonde wig stay at home. Reluctantly leaving the agency in the hands of her tactless best mate and terrifying sister, Mel flies out…
Before she knows it, she's agreed to polish the talented but rude rising star Ric Spencer, who just so happens to be an ex, while having to juggle Jonathan, his manipulative ex-wife, a wilful terrier, and escalating crises back in England.
Can Melissa put the manners back into Manhattan? Or is this a challenge only Honey can tackle?